Opening Hrs :
Mon to Sun - 8am to 8pm
Green light PVP laser treatment for enlarged prostate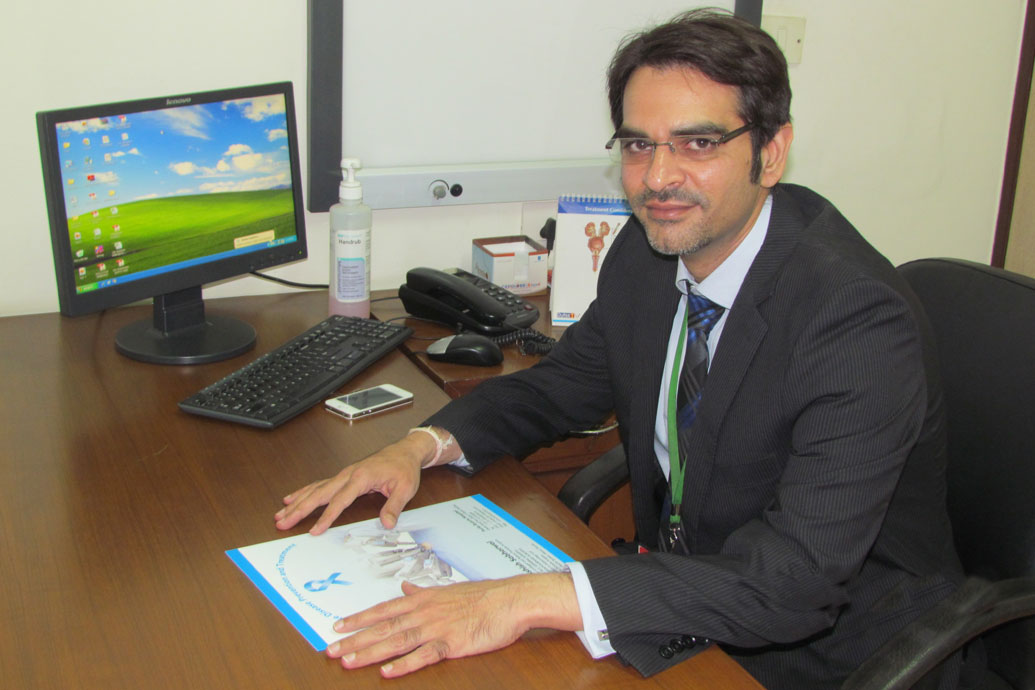 2 thoughts on "green light PVP laser treatment for enlarged prostate"
Dr Chris Okonkwo, DBA says:
My story-
Hello. I am Dr. Chris Okonkwo, an engineer and Business Scholar. My contact with Dr. Ashish Sabwahal was after having watched my PSA values rise in Nigeria that I became concerned. It was under National Hospital Abuja where I was not comfortable with seeming belittling of its implications. I embarked on internet search for solutions. I sent out many enquires , attaching many months of Test results. First was the Apollo Hospital New Delhi's Patient's relations person (Govind) who reached me and got Dr. Ashish to speak with me. I followed up with enquiries and probings to understand. Dr. Ashish was confident about his reading of my BPH case (Enlarged Prostate) but promised to reconfirm it before any procedure.
Other hospitals like BLP and Fortis reaches me too and I found that they referred to Dr. Ashish as their expert too. He gave me a Nigerian patient reference who I contacted and spoke glowingly of his treatment by Dr. Ashish. I got more confident in him and took up Embassy invitation letter from him. I reached New Delhi on 4th March and conducted all needed tests and more (on request) same day. First is that PSA was confirmed to be 2.2 instead of 3.79 in Nigeria. On the 6th of March, he performed Green Light Laser Prostatectomy on me that lasted about 1 hour. I was given spinal Anastasia and was awake throughout. It was a cut-free procedure through my urethra. I showed a glass of Prostate tissues obstructing my urine flow, to my shock. It became clear that the procedure was overdue. He sent the tissue for Biopsy test that came back negative. I was passing blood stained urine expectedly.
I was transferred to a private room for 2 days and returned to my hotel room for 4 days with catheter. On the 4th post operative day, he removed it. I was under observation for a full day and was certified fit to return to Nigeria on the 6th post operative day, with the bloody urine clearing. My urine flow improved immediately unlike before the procedure. A day after return, the blood stain cleared too. I have been in touch with Dr. Ashish, updating him with developments and he has been communicating back despite tight schedules. This is important for more trust and recovery by his patients.
I returned to work immediately and there is no sign of ailment or effect on my daily routine. In fact, I feel relieved of a burden, especially having seen the excess tissue and improved/normal urine flow.
Dr. Ashish is a thorough and skillful professional with few words. He conserves his energy to save many men from prostate blues. I am happy that trusted his advice leading to the GLL prostatectomy.
Ashish Sabharwal says:
Dr Chris is an Engineer from Nigeria and his wife is a gynecologist.
He had Urinary problems in the form of Pain during Urination, Reduced urinary flow , urinary urgency.
he was also doing his prostate cancer screening regularly.
He was scared because repeated PSA readings showed slowly rising PSA .
He contacted me via whattsapp in January 2018 and we started chatting.
Finally he came to India on 3rd March 2018.
We did extensive workup for him including the Multiparametric MRI Prostate and the Free and total PSA and Uroflowmetry.
Prostate Cancer was ruled out , but we discovered that the prostate was enlarged and obstructing the urinary tract.
We discussed all the risks and benefits of Laser surgery for enlarged prostate.
He underwent successful Green Light PVP Laser Prostatectomy on 13th march 2018.
Yesterday his catheter was removed , today he is urinating well and he is flying back to Nigeria in the evening.
This is Dr Chris inside the OR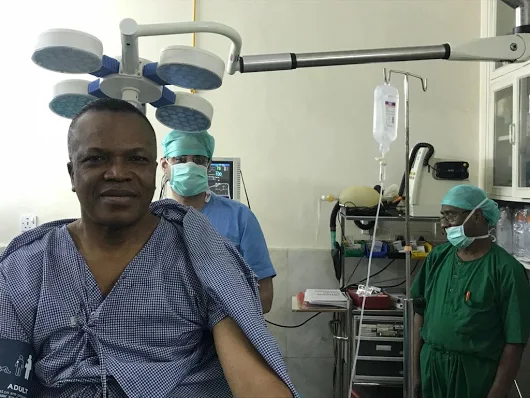 Below is a picture sent to me By Dr Chris with the following message"Last Day with Dr. Ashish of Blue Ribbon Urology Centre, N/Delhi, after successful treatment for Enlarged Prostate ".