We offer you the best treatment of Prostate Cancer in Punjab at an affordable cost.
About Us:
Dr Ashish Sabharwal is an expert in Robotic Surgery for Prostate Cancer Treatment.
After his super speciality DNB training in Urology in 2008, he went to University of Miami, USA for Endourology and Robotic Surgery training. He spent 3 years in USA, then returned to India to start Robotic Surgery and Prostate Cancer treatment at Apollo Hospital, New Delhi in 2011.
Dr Ashish is one of the most experienced Prostate Cancer Experts in India as he is one of the few doctors in India who are formally fellowship trained and he is currently doing one of the highest number of Robotic surgeries for prostate cancer in India. He has done more than 2000 Robotic Radical Prostatectomy surgeries for prostate cancer treatment. He is also a certified Proctor for Intuitive surgical. This means that whenever a hospital installs a new robot, Dr Ashish Sabharwal is requested by intuitive surgical USA to go and teach the doctors in that hospital how to do Robotic surgery for Prostate Cancer.
CME Lecture on Locally Advanced Prostate Cancer treatment in Punjab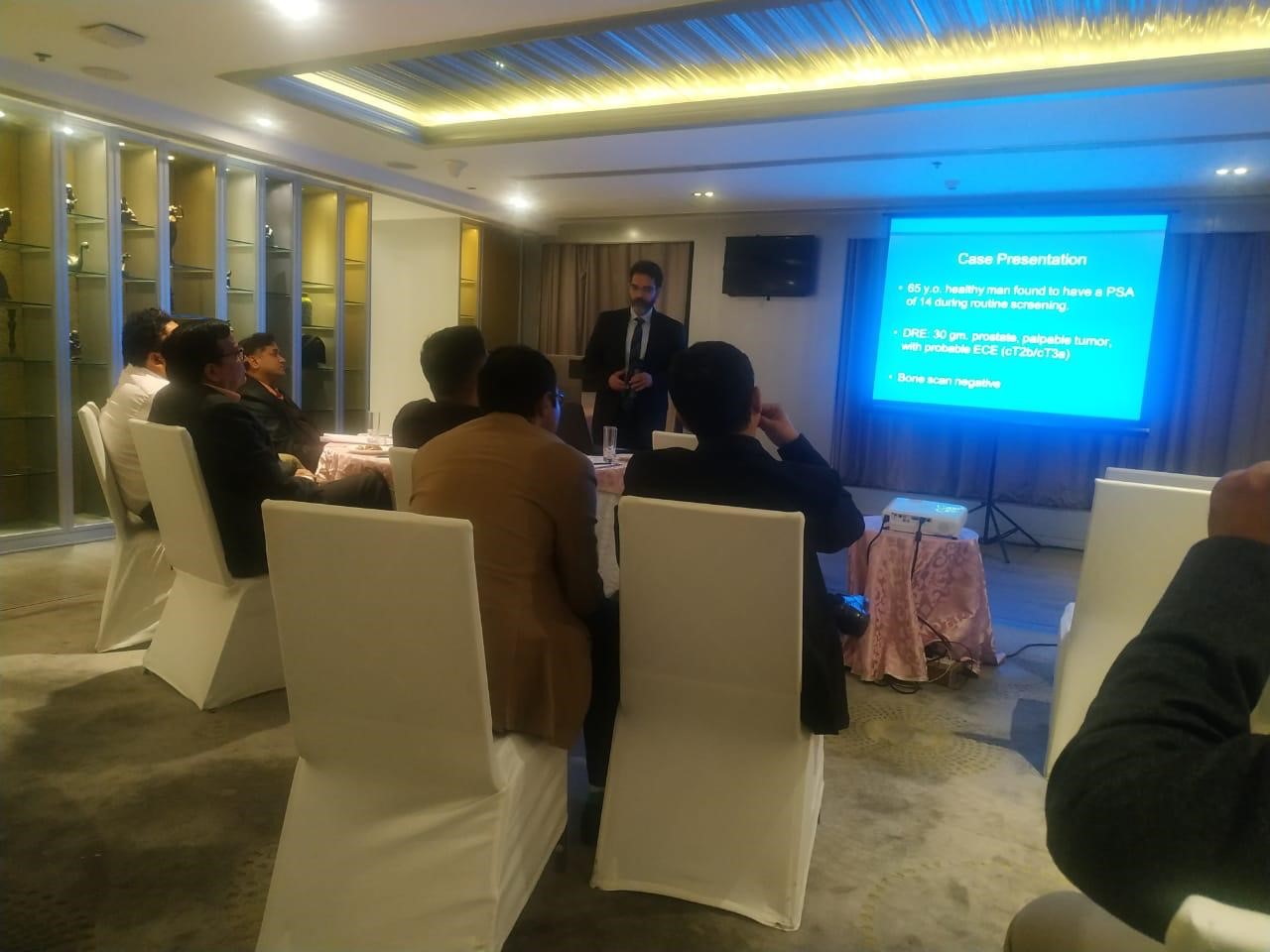 On March 14, 2020, Dr Ashish presented a lecture on "role of Robotic Radical Prostatectomy in Locally advanced Prostate Cancer". This event took place in Hyatt Regency Hotel in Ludhiana, Punjab.
About 15 Urologists from Ludhiana and Jalandhar attended the dinner meeting. It was a successful event and a fruitful discussion amongst all the doctors who were there in the meeting. The doctors who attended this meeting are reputed Urologists of Ludhiana and Jalandhar. They liked the presentation. I answered many of their questions like What is the cost of Robotic Radical Prostatectomy for Prostate Cancer treatment? When I told them that it cost Rs 4 Lac, they were happy and told me that this cost was much lower compared to the other hospitals offering robotic surgery.
When they asked me how the costs were so low, I explained that my patients never need ICU stay and do not need blood transfusion. Their hospital stay is only 2-3 days. I use minimum instrumentation. All these reduce the costs to the patient significantly.
All the doctors promised to refer me prostate cancer patients for robotic surgery treatment as they did not have this technology available locally and I was an expert offering this treatment at lower cost.
Prostate Cancer patient from Ludhiana, Punjab
He is a 68yr old patient with Gleason 3+3 = 6 Prostate Cancer with PSA of 9.53 ng/ml. He was very scared because his wife had died of Breast cancer. He was very disturbed that his PSA had been high since a long time, but still no doctor had guided him properly. The MRI Pelvis and PET CT Scan was done which showed that the cancer was confined to the prostate. He underwent Robotic Radical Prostatectomy on 20/4/2020. He recovered well and his biopsy report has come that shows that the whole cancer is out of the body. He has returned to Punjab and is happily staying in his hometown in Ludhiana. He is in regular touch with me.