Kidney stone treatment in Delhi
Our Urine contains many dissolved minerals and salts. When the levels of these minerals and salts increase, stones form in the urinary tract. Kidney stones initially start as a small nucleus and as more and more minerals and salts are deposited over the nucleus, a big kidney stone forms, that may even fill the whole of the kidney. Some stones stay in the kidney, and do not cause any problems. Sometimes, the kidney stone can travel down the ureter, the tube between the kidney and the bladder. If the stone becomes stuck in the ureter, it blocks the urine flow from that kidney and causes swelling of kidney and pain.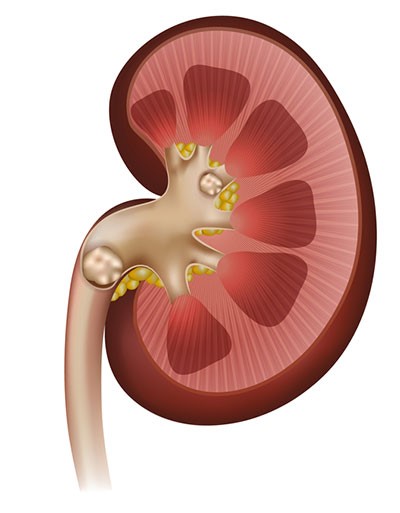 What is Kidney Stones Made of?
Kidney stones come in many different types and colours. How you treat them and stop new stones from forming depends on the composition of stones.
Calcium stones (80 percent of stones)
Calcium stones are the most common type of kidney stone. There are two types of calcium stones: calcium oxalate and calcium phosphate. Calcium oxalate is by far the most common type of calcium stone. Some people have too much calcium in their urine, raising their risk of calcium stones. Even with normal amounts of calcium in the urine, calcium stones may form for other reasons.
Uric Acid stones (5-10 percent of stones)
Uric acid is a waste product that comes from chemical changes in the body. Uric acid crystals do not dissolve well in acidic urine and instead will form a uric acid stone.
Causes of Acidic Urine are:
Obesity
Chronic diarrhoea Disease
diabetes (high blood sugar)
Gout
High animal protein and less fruits and vegetables in diet.
Struvite / infection stones (10 percent of stones)
These stones are related to Urinary Tract Infections (UTIs). Some bacteria make the urine alkaline. Magnesium ammonium phosphate (struvite) stones form in alkaline urine. These are often large stones.
Cystine stones (less than 1 percent of stones)
Cystine is an amino acid that is in certain foods; it is one of the building blocks of protein. Cystinuria (too much cystine in the urine) is a rare, inherited metabolic disorder. When there is high concentration of cystine in urine, it causes stones to form. Cystine stones are often seen in children.